Your journey to fluency in a foreign language has just begun. We think it is important to know a few things before you start. It will only take 3 minutes.
Taalhammer is a state-of-the-art application and an e-learning platform for rapid foreign language learning. You will build up the vocabulary fast and you gain the confidence to use it by learning loads of simple sentences. Working with our tool will contaminate your thoughts with language blocks and patterns. Smart algorithms and advanced statistics will reduce the workload.
M
Learn Any Language
Taalhammer is a tool that you can use to learn any language. However, we offer much more content for some language pairs than others.
You can find all language content by clicking on languages.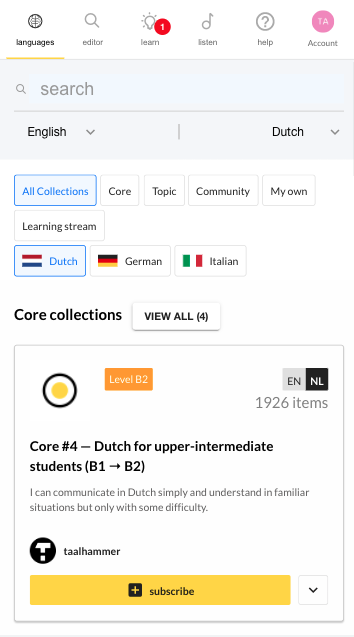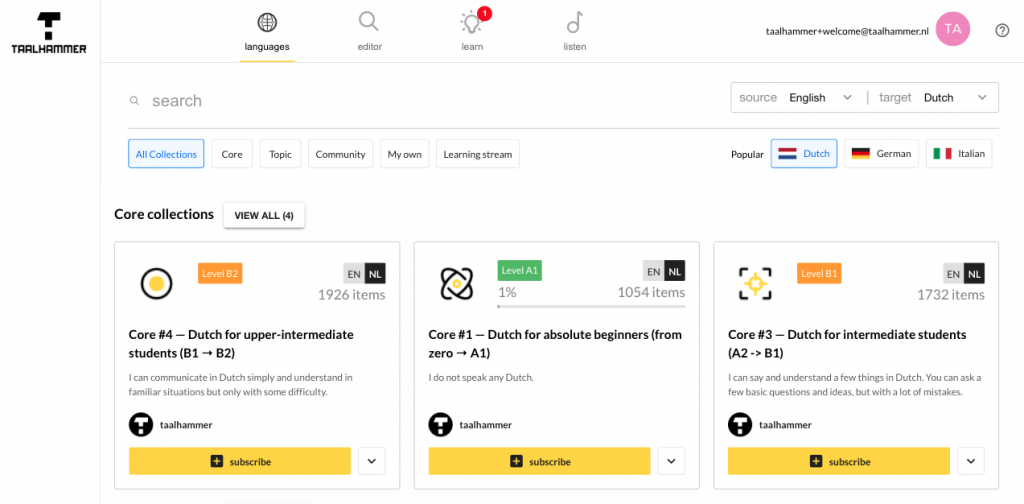 For some language pairs, such as e.g. English-Dutch, you can find different kinds of collections.
The core collections have been created by the Taalhammer team and are designed to master the most fundamental language skills.
In addition, we are constantly publishing so-called topic collections, which allow you to expand your vocabulary and learn about various interesting topics.
Moreover there are collections created and shared by other users in our community.
If you are new to a language, we recommend that you first subscribe to the core collections, and then join other topic collections or collections provided by other users.
The Editor
Another important place for your language learning is the editor where you can find examples of usage, translate and write your words and sentences.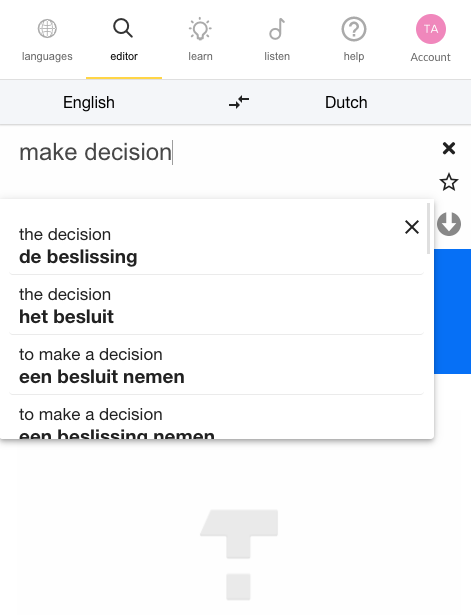 The application will make sure you memorize them all quickly by serving you repetitions at the right time and in the right amount. Moreover, the editor is the place where your teacher should write down words, phrases and sentences from the lesson so that you can efficiently repeat and remember everything with the help of our smart algorithms.
If you haven't found a collection for your target language you can still use Taalhammer to create your own collections as well as to work together with a teacher. For many languages, even though there are no collections available out of the box, we offer a search engine that you can use to find example sentences as well as a powerful machine translation that helps you translate your own content.
If you use the application on Desktop then you will also have convenient access to all your collections on the right hand side of the screen.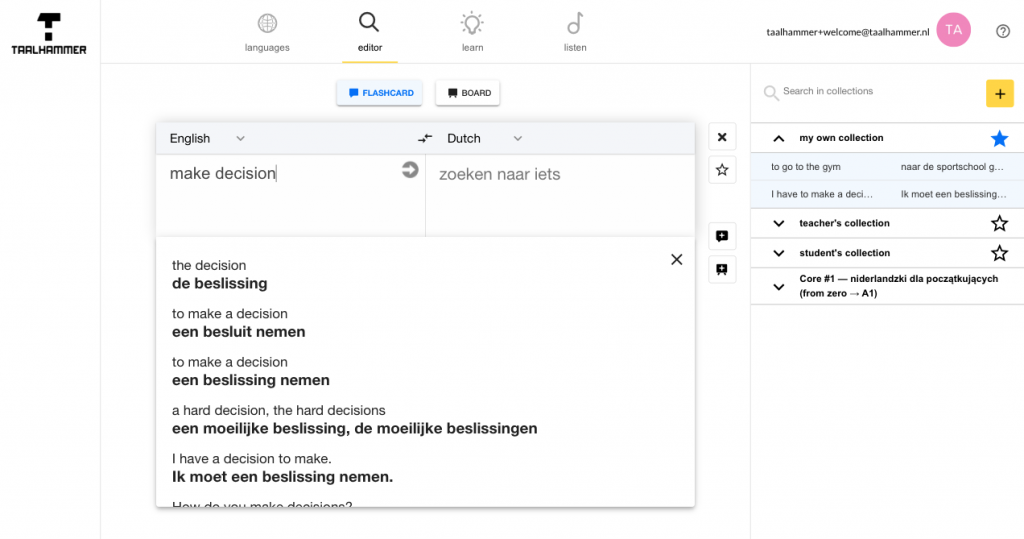 The Learning Mode
And finally the Learning Mode, where you repeat and learn from all the sources mentioned above i.e. from core or topic collections, your own searches, collections from your teacher and collections provided by our community.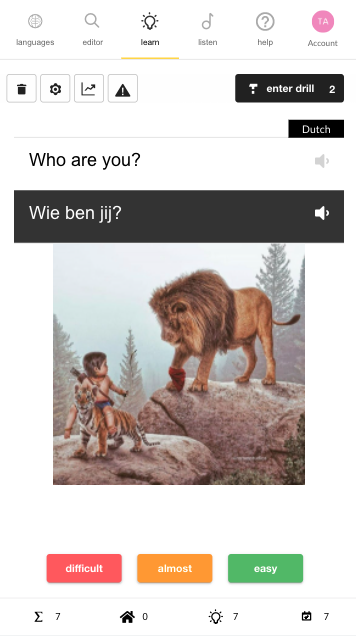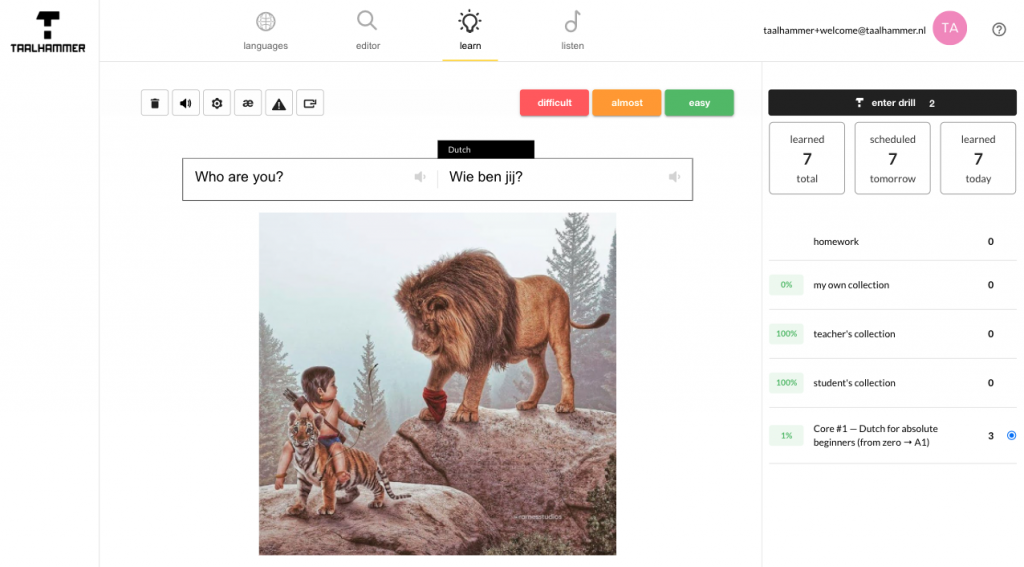 We have a separate article and video about exactly how repetitions with Taalhammer look like, how our algorithm works and how to get the most out of it.
This, as well as all the other explainer videos are available on our knowledge base page http://www.taalhammer.com/help.
The Listening Mode
The last place is Listening, where, as an extra repetition, you can listen to all those elements that you are learning. This is a great exercise that you can do while doing sports or driving.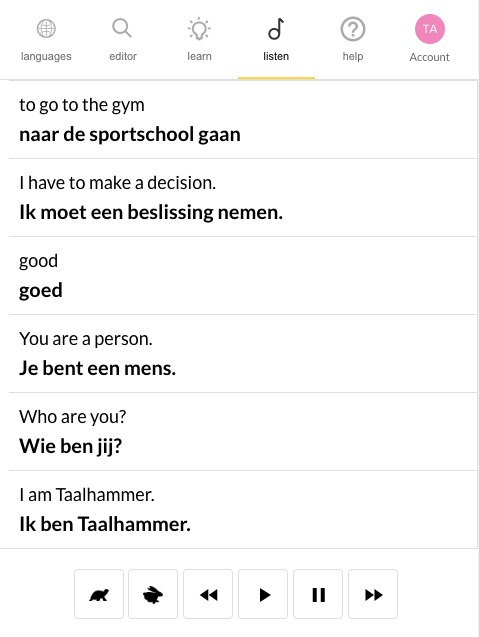 Enjoy your learning journey with Taalhammer, language learning that works.