Artificial intelligence won't replace teachers
We believe that the teacher plays a crucial role in the process of language learning. We also believe, despite the popular opinion, that AI will not replace humans in teaching languages anytime soon. The current situation proves completely the opposite. We have an explosion of teachers and tutors offering their services via online marketplaces, Facebook or WhatsApp groups.
Why are we not getting the most out of lessons?
We conducted a survey among students and teachers asking them about the strengths and weaknesses of the relationships between them, as well as their ways of working. It turns out that the biggest problem, especially for students, was the lack of an easy way of repeating the content from classes in a digestible way. Students are overwhelmed by the quantity of notes, PDF files, and photocopies – let alone the chat messages.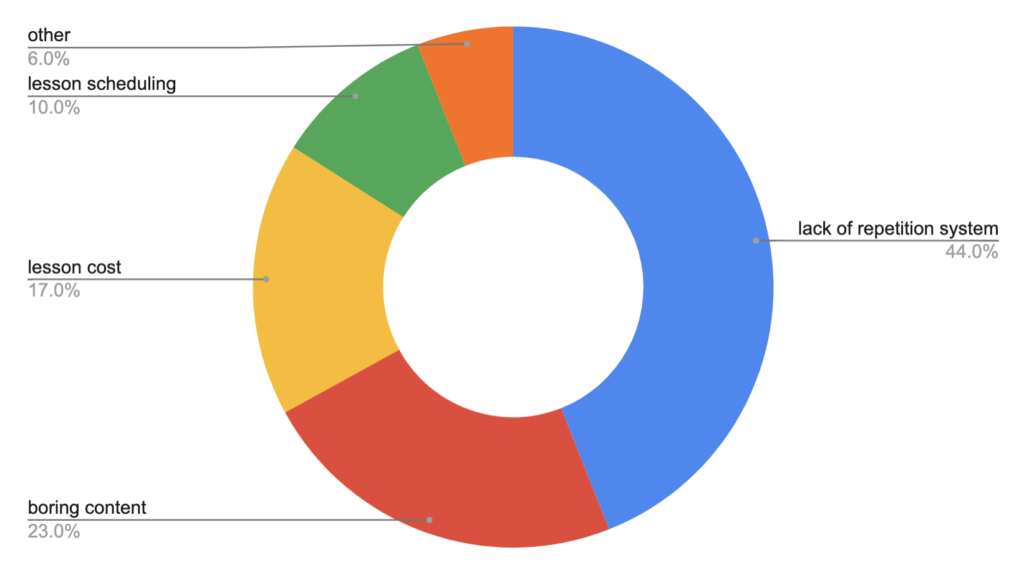 While the majority of teachers do a terrific job of explaining language concepts, correcting pronunciation or finding examples of use, they fail on passing that content to students using repetition. Remember, the human brain needs to process information on average at least seven times before we really learn it.
Google Docs is not a tool for language learning
We have been there too – frustrated by the long lists of words and sentences shared in Google documents after online lessons, which are inconvenient and hard to repeat.
Because of the pandemic, we are seeing an even faster trend of moving language learning online. Combine that with the explosion of online teachers, tutors and platforms, and two questions arise:
How to stand out from the crowd
How to retain students.
Learners increasingly expect teachers and schools to incorporate modern and mobile tools into the learning process and provide a seamless learning experience between the online and offline worlds.
Many statistics show that slow progress increases the likelihood of leaving to find another school or tutor or method, or even of dropping language learning altogether.
And we fully understand why that is.
Isn't it frustrating when you have to repeat the same things with your student over and over again? It's even more frustrating for the student. Wouldn't be great if they could retain things from classes? Well, it turns out there is a better way to do that.
That is why we built a tool that helps teachers and students and supports them in building a successful and long-lasting relationship.
Magic formula = spaced repetition + boards
We developed Taalhammer Atom – our version of the well-known "spaced repetition" algorithm. Then we combined it with a simple-to-use yet powerful virtual board, a place where teachers can put words, sentences, examples of use, texts, comments etc. – whatever they think is important during the lesson. Just like a regular whiteboard in the classroom.
The content you put on the board is added to students' repetitions and Taalhammer will make sure they remember everything they need to know. It takes around 5–10 repetitions spread over 2–3 weeks to learn an item.
Supercharge your classes with boards
Do you have a new class or a new student? Create a new collection and share the link so students can subscribe to it. From that moment on, whatever content you add to this collection will instantaneously be available for all your students to learn from all devices, including their phones and desktops!
Two types of content: multimedia vs flashcards
While studying and working with teachers, we've realized there are two types of content:
Chunks of the language – items that should be remembered and automated (words, phrases and sentences)
Content supporting the learning process, i.e. texts, comments, names, videos, links etc.
This is how Taalhammer boards are designed. For all the supporting content, use the text elements – these will be available for reference. For the language chunks, use flashcards – these will be scheduled for repetitions by Taalhammer Atom. You can combine them however you want. Taalhammer will take care of the rest.
Let's say you want to analyze a short text with your students. Just paste it in Taalhammer. While you work on the text together, you can add a few flashcards to the board with example sentences.
The moment you press save, Taalhammer not only saves the whole board for reference; it also creates separate flashcards. From that moment on, it challenges the students with these words and sentences till they have memorised them. A few weeks later they'll not only remember them, they will use these words and sentences without hesitation.
Always in sync with your students
The combination of boards and collections is very flexible and allows you to change the way you work with your students without extra work.
You can reuse existing boards, change them a little bit and share with different groups.
You can create templates with lexical or grammatical content upfront, share them with your class, and add even more examples during the lesson. It's a very powerful method to help them remember even better!
Does your class or student want to discuss the conditional tense today? No problem. Choose the previously prepared board from your personal collection, and share it with your students. The application will take care about the rest.
Flexible homework
With Taalhammer boards and collections, it's super easy to give your students homework. Because they have subscribed to the collection you shared with them, you can give them content to learn whenever you want. Just add more boards or flashcards to the collection.
The content will not only be immediately available to your students but more importantly Taalhammer will make sure they learn it by challenging them as often as needed, whether they use it on their mobile devices or their desktop.
Quickly catch up after absence
This way of working comes to the rescue for students who have missed a few group classes. Coming back from a break and catching up can be a really daunting task. Not with Taalhammer boards! During their absence, all the content has been organised and automatically scheduled for your students. It is almost like they never missed a class – without any special effort needed from the teacher.